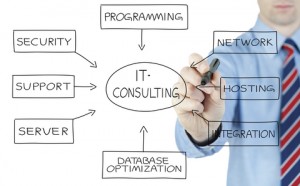 Experience the incredible service of Isix Managed Services.
Managed Services is the practice of entrusting day-to-day system management responsibility to third party IT experts as a strategic method for improving the effectiveness and efficiency of operations.  By outsourcing IT services, companies are able to improve focus on their core business and building a stronger, more efficient organization.
Isix maintains a flexible Managed Services business unit providing the expertise and depth of its resources.  This unit employs an on-shore remote delivery model focused on superior communication and responsiveness.  Our team provides peace of mind security through 24×7 monitoring, proactive system administration and staff mentoring.
Experts as an extension of your in-house team
Beyond monitoring and tuning, Isix Managed Services is a comprehensive business partner to our clients, supporting the entire system lifecycle from implementation to upgrades and beyond.  We firmly believe that the technology in any organization must support the aims of the business, and not the other way around.
Database Administration Services – A dedicated Database Administrator is assigned to your account and ensures the proactive support you receive is based on firsthand knowledge of your specific systems, coupled with solid best practices.  As your primary and consistent point of contact, your assigned DBA is viewed as an extension of your in-house team and is available at any time to respond to your needs.  Your systems are supported using alert-based monitoring to quickly identify any issues that may need attention and begin proactive remediation.  However, we also move beyond problem identification and resolution and work closely with your team on a monthly or quarterly basis to identify initiatives and improve your systems through backup and recovery, performance tuning, patch application, new functionality, platform migration, cloning or upgrades.
Functional Services – Instant access to expertise is at the heart of this service as difficult problems come in many different shapes and sizes, potentially requiring hard-to-find depth of knowledge.  Let our unique capabilities benefit your business by supplementing your team with on-demand experts that possess the knowledge and expertise to guide users through even the toughest application issues.
Cloud Services – Worried about the high cost of maintaining your IT infrastructure?  From power and cooling to monitoring and backups, let Isix Cloud Services provide you with a secure, durable technology platform subjected to industry-recognized certifications and audits.  Sleep easier at night knowing that your business-critical systems are available and ready for you and your customers 24×7.  By moving your mission critical systems to the cloud, you can take advantage of low cost, instantly-scalable infrastructure with the flexibility of only paying for the hardware you use. Your environment will be supported at a fraction of the in-house cost.  You can also rest assured it doesn't matter what operating system you choose as our system-agnostic platforms allow you to select a model that makes the most sense for your business.
Managed Interface Services – E-Business Suite integrations have their own unique support needs, requiring timely and effective resolutions when issues arise.  Isix enables your interface support team with Managed Interface Services, leveraging over 20 years experience with complex E-Business Suite integrations.  Isix understands E-Business Suite integration and can provide you with a high level of support for your unique interface configurations, including our Isix integration platform, Oracle, or custom solutions.